As a youngster
Johnny grew up on the outskirts of Atlanta, Georgia.  He provided the soundtrack for his playmates.
They produced the requisite noises for the incarnation of their imaginations but Roquemore made the music.
In the third grade he unwittingly succumbed to the lure of musical destiny by agreeing to learn the Baritone Horn.   As the biggest instrument in the band he had to have one.   It was a monophonic nightmare of whole and half note boredom but JR stuck with the program all the way through college.
He was dashing in his High School band uniform and wore it to all the football games.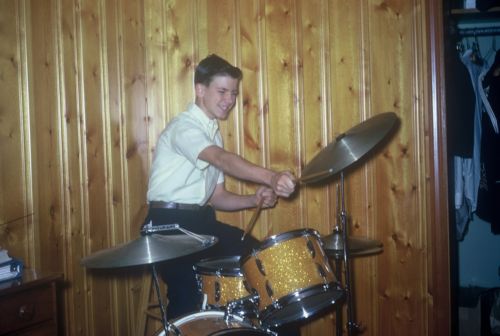 Music and puberty crashed together when, at 14, drums then bass guitar made him rock.  Every neighborhood had a band much to the rancor of the residents.
In College
The acting bug bit and Johnny bit back.
After stints at Theater Atlanta, The Alliance Theater, radio & TV commercials and a couple of movies, Roquemore decided California was the place to be.
In California



The acting thing didn't work out as planned so he got a job as a singing waiter.
Those were heady times.   Easy living, plenty of musical opportunities and finding Malibu where he stayed for the next thirty years.   Roquemore appeared at  all the coffee houses in Hollywood, hit the county fair circuit, played harmonica as a session musician, won some awards, cut quite a few albums,  and lived on the same street as the Eagles and Barbra Streisand.  He was dubbed "The Minstrel of Malibu".
Back in Georgia
Roquemore is a top solo act as well as the leader of the extremely popular band "Johnny Roquemore and the Apostles of Bluegrass."
What Makes Him Roque
His musical influences are: Gilbert and Sullivan, Tom Lehrer, Doc Watson, John Prine, Stephen Foster, Jerell Lambert, Rev. Barry Darnell, Doctor Demento, Al Yankovic, Homer and Jethro, Martin D-28 SW, The Great American Food and Beverage Company, and California.